WESTINGHOUSE AND ENUSA SIGN A FRAME COOPERATION AGREEMENT FOR THE DEVELOPMENT OF ACCIDENT-TOLERANT FUEL
25/05/2018. Westinghouse and ENUSA have signed a Frame Cooperation Agreement (FCA), to collaborate in the development of the EnCoreTM Accident-Tolerant Fuel currently underway in Westinghouse. This revolutionary design incorporates concepts like zirconium alloy cladding coated with chromium, silicon carbide ceramic cladding ("SiC") and uranium silicide fuel pellets (U3Si2), and aims at greater tolerance for the temporary loss of coolant, derived from the experience at the Fukushima nuclear power plant.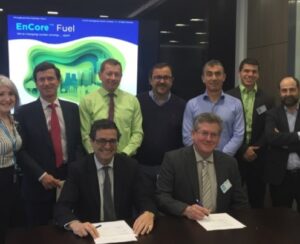 The newly signed FCA establishes the framework that will regulate the different Joint Collaboration Projects (JDPs) to be launched between both companies. ENUSA will be able to make a valuable contribution to those projects based on the technical capabilities and the extensive experience in the commercial, engineering and fuel manufacturing areas.
In this sense, the first JDP will be formalized in the coming days and the objective will be to evaluate the application of the segmented rod concept as well as to develop models of ATF / EnCoreTM fuel behavior, considering the first introduction of demonstration rods in the Byron nuclear power plant in the United States in 2019.
This first JDP will be followed by others in the area of codes and methods, spent fuel and fuel fabrication and inspection technology.
On the other hand, the position of ENUSA in the Spanish and EFG markets will facilitate agreements with customers to launch ATF / EnCoreTM demonstration programs in their plants.
The signing of the FCA will serve also to strengthen the technical and commercial relations between ENUSA and Westinghouse, formalized through the recently extended European Fuel Group "EFG" and License Agreements.